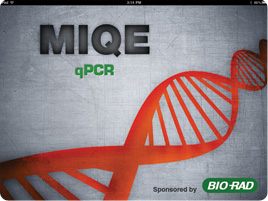 Bio-Rad Laboratories is sponsoring a new version of the MIQE qPCR app. Researchers can use the new version to validate their digital PCR (dPCR) experiments according to the recently published digital MIQE (dMIQE) guidelines (Huggett et al. 2013).
Professors Michael Pfaffl (TU Munich, Weihenstephan, Germany) and Afif Nour (King Abdulaziz University, Saudi Arabia) designed the original MIQE qPCR app to help researchers improve their real-time PCR (qPCR) assay protocols by making it easier to adopt a set of best practices described in an earlier publication: The MIQE guidelines: Minimum information for publication of quantitative real-time PCR experiments (Bustin et al. 2009). Progress bars in the app show the percentage of assay compliance as each item in the MIQE checklist is completed.
"We were pleased to find that the MIQE qPCR app encouraged our customers to follow the new MIQE guidelines," said Jean-Pierre Dakkak, a laboratory equipment trading company manager.
"Researchers are really eager to learn how this app can make their life easier," said Dr. Nour. "They report it instills confidence in the validity of every qPCR or dPCR project."
The new updates include:
Project-specific checklists — checklists remove unnecessary items; for example, reverse transcription items are irrelevant in DNA research
Updated references — researchers can stay current with the latest MIQE and dMIQE literature and qPCR symposiums
Easy export — users can save their projects and share them with colleagues
The MIQE qPCR app runs on the Apple iPhone, iPod touch, and iPad. It has been downloaded more than 6,500 times in 87 countries. To get your copy, visit http://bit.ly/MIQEapp.