Since time immemorial, (or at least stretching back 2 to 3 years…), the American Biotechnologist has been a staunch advocate of the MIQE standards for real-time qPCR and has presented videos, technotes and papers from Bio-Rad qPCR experts. Dr. Sean Taylor's video "Applications of MIQE to Real Time Quantitative PCR" has become and instant internet sensation and Dr. Francisco Bizouarn's slideshow on "Fast qPCR assay optimization and validation techniques for HTS" is enshrined in the SlideShare museum hall of fame (at least on our site). Now, these two world class scientists have finally gotten the recognition they deserve.
This week, Sean and Frank were interviewed by the PCR Insider regarding the importance of following MIQE when conducting qPCR studies and Bio-Rad's role in the dissemination of these crucial guidelines.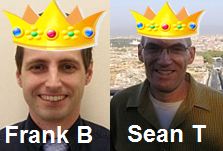 Check out the story on the PCR Insider (subscription required), and long live the Kings Sean and Frank!