We have written many posts about the MIQE real time PCR standards that are basic requirements for anyone engaged in real time PCR experimets. Now there is a new tool for all ipod/iphone users to add to their arsenal. A MIQE qPCR app!
The MIQE app helps scientitst review scientific work and check their own project's MIQE compliance. Plus, the app includes a list of the most current qPCR news and events and "emergency" contact numbers that you can call/email should you have any questions about your qPCR experiments.
The application was developed by Dr. Afif Abdel Nour, Associate Professor in Nutrigenomics at LaSalle Beauvais, in collaboration with Dr. Michael Pfaffl and was sponsored by Bio-Rad Laboratories .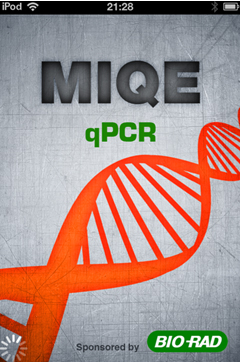 Tags: Bio-Rad Laboratories, genetics, genomics, high-resolution melt analysis, molecular biology, PCR, real time quantitative PCR, Real-Time PCR, SNP Analysis