Following fast on the heels of last week's ugly acrylamide mess, here is a submission from one of our Canadian friends. Adriana from the University of Toronto is hoping that you can help her solve the mystery of this warped wonder. Once again, here are the questions:
1. Why is this gel so ugly?
2. How did it get this way?
3. How can Adriana prevent this from happening again?
To help Adriana, simply leave a comment by clicking on the comments link below or fill out the ugly gel feedback form. If you choose to fill out the form, you will be eligible to receive a free TGX sample gel compliments of Bio-Rad Laboratories.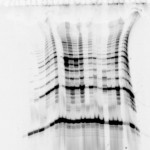 Tags: 2D Gel Electrophoresis, ugly gels