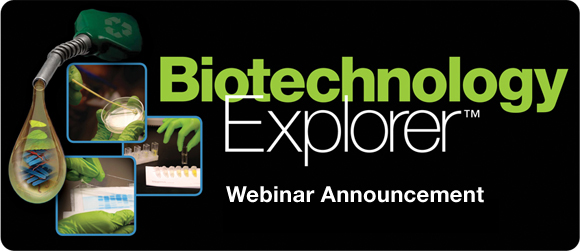 No budget to travel to conferences?
Join Bio-Rad for a FREE Web Conference and learn new skills from the comfort of your own computer!
Bring enzymes to life in your classroom with relevant and topical applications. Enzymes and biofuels – a great combination!
Date: Wednesday, April 21, 2010
Time: Two Sessions –
3:00 PM Eastern (12:00 PM Pacific) – REGISTER
or
7:00 PM Eastern (4:00 PM Pacific) – REGISTER
Presenter: Cindy Gay, M.A.
Steamboat Springs High School
Steamboat Springs, CO
Enzymes are critical to life and are central in any life science curriculum. Enzymes spiral throughout life science curriculum and provide many opportunities to incorporate best teaching practices, but how excited and engaged are your students? As a case study for enzymes and factors that affect enzymatic reactions, biofuel production is a hot topic that connects many big ideas in both biology and environmental science. Looking at enzymes through this light allows us to explore enzyme activity as well as hands-on labs for teaching enzymes. This webinar will consider why it's important to teach enzymes including enzyme function, regulation and industrial applications and will share tips on engaging students that have proven successful in the classroom.
Webinar Agenda
Why teach about enzymes
Enzymes overview: function, regulation and STEM applications
Biofuels as a case study for real-world applications of enzymes
Hands-on labs for teaching
Presenter's Background:
Cindy Gay completed both her undergraduate and graduate work in Environmental, Population and Organismic Biology at the University of Colorado. For the past twenty-nine years she has taught biology to students ranging from middle school to college undergraduates. A Nationally Board Certified teacher, Cindy is currently teaching Biology, AP Biology and Anatomy/Physiology at Steamboat Springs High School in Colorado. She has been recognized for her teaching, curriculum and staff development as a recipient of the Presidential Awards for Excellence in Science Teaching, Outstanding Biology Teacher, Amgen Award for Excellence in Science Education, and Teacher of the Year.
Bio-Rad is committed to responsible e-mail marketing. We do not sell or rent your name or personal information for use by any outside company or third party. We encourage you to select the information that best suits your needs. Please view our complete privacy policy.
Send written inquiries to Bio-Rad Laboratories, 2000 Alfred Nobel Drive, Hercules, CA 94547. In the US call 1-800-424-6723, outside the US call 1-510-741-1000
Tags: Bio-Rad, BioEducation, Enzyme Kinetics